Did you ever want to pitch your start-up to top level European decision makers? This is your chance!
 
H2UB is hosting the Start-up Area at the European Hydrogen Week, November 21st-24th in Brussels. We want to offer you and your start-up the unique chance to join us: free of charge, no strings attached.

What's in for you? You will get a booth in our Start-up Area and a pitching slot at the B2B Forum stage. 

📝 Fill out the form to apply for your seat: https://www.survio.com/survey/d/HydrogenWeekH2UB
Application deadline is August 28, 2023 😱

What happens next? Once we finish reviewing the applications, we'll contact you. Expect to hear from us mid September 2023.
You need more information? Scroll down to find everything summarized as well as impressions from last year.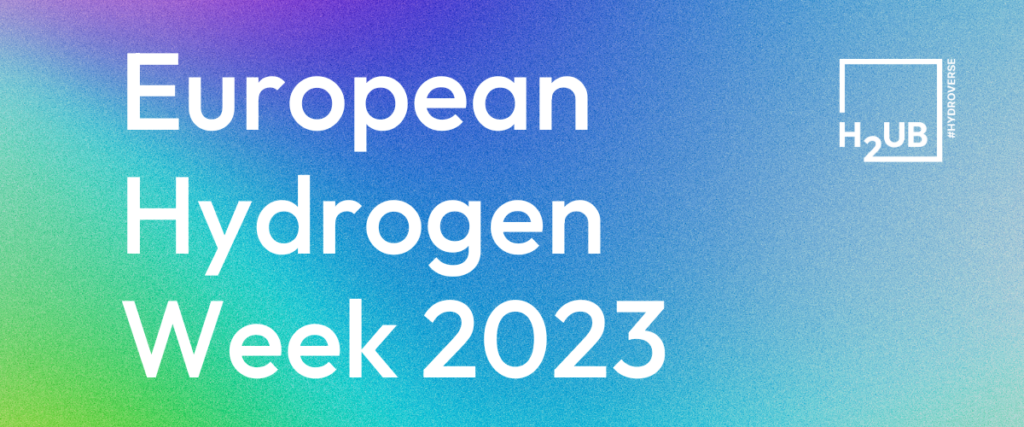 From November 21-24, 2023, we present the H2UB on the European stage at one of the most valuable hydrogen events of the year.
For the second time, politics, companies and science but also H2 start-ups from the #HYDROVERSE will be present at the European Hydrogen Week.
The program of the B2B Forum, where the main stage and the H2UB Start-up Area are located, can be found here: https://euhydrogenweek.eu/programme-b2b-forum/
All information at a glance:
📅 Date: November 21-24, 2023
⏰ Time: opening hours for the B2B Forum and the Expo can be found here: https://euhydrogenweek.eu/time-and-location/
📍Location: Brussels Expo, Place de Belgique 1, 1020 Bruxelles, Belgium
🏟️ Pitching stage: The HYDROVERSE pitches will be at the B2B Forum stage. Our two pitching slots are on:
Nov. 21, 2023 (04:00-05:00 pm)
Nov. 23, 2023 (10:00-11:00 am)
Time per pitch: 6 min. The best pitch will be awarded with the HYDROVERSE Award.
We will take photos and record all pitches for communication on the H2UB Social Media channels.
🎫 Start-up booth: H2 start-ups that accompany us will get their own start-up booth (with logo & screen) – to make sure that visitors can get in touch with them to talk about their solution.
⏳ Deadline: application ends August 28, 2023 – EOB.
🛏️ Accomodation: We have made a deal with MotelOne Brussels for a fixed rate. You will receive further information if your application is accepted.
🤔 Decision: We will decide who will accompany us until mid September 2023. Until then: stay tuned!
Apply now for your booth & pitch slot: https://www.survio.com/survey/d/HydrogenWeekH2UB
European Hydrogen Week 2022 – last year's impressions
Want to make sure that the European Hydrogen Week is worth the trip?
Take a stroll down memory lane and check out our event video from last year, where we show you the start-up exhibition as well as the pitching stage.
We promise you: This year it will be even bigger, brighter and louder 😎